Welcome to the 'neon brown discography' page!!

For selected mp3's from these studio albums, check out hotbands.com. Also, you can listen to the first two minutes of most tunes, before you buy copies of "Fiber" and "NiceFeathers" from CD Baby.





"NiceFeathers"(2004).




1. Nice Feathers
2. Inertia
3. Keychain
4. Fancy Walkin'
6. Aphid Tea
7. His Knees Are Rubber
9. Neo Burn
10. Pants Then Shoes
11. Eddy
12. The Long Hall of the Jambox
13. Nice Feathers


"Fiber"(2002).




1. Falling
2. Blue Fiber
3. Any Day Traffic
4. Living on the Edge
5. Tippin' the Fridge
6. On the Wind
7. Static
8. The Riddle
9. J12 Interlude
10. Lost Baggage
11. Glass Turtle
12. Get Round
13. Return


The First CD: "Self Titled"(2000).




1. Hoodoo
2. Clay Castle
3. Toast Fantasy
4. Cityscape #1
5. Echonomicon




If you want to download the full color jewel case artwork for the first -- self titled -- CD, or for your nifty mp3 collection, just click on the images below and save the resulting image to your hard drive.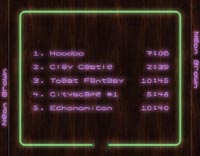 The images are the proper size at 150 DPI.
Back to the audio page.